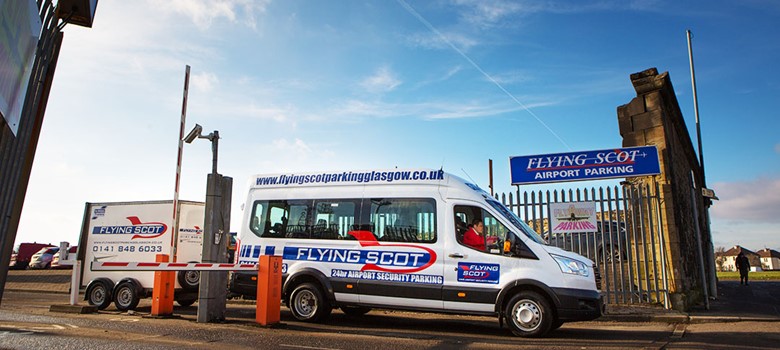 Flying Scot Glasgow offers a variety of services to accommodate all of your airport parking needs, including customers seeking a long-term parking solution as well as customers needing to park and fly. Conveniently located 5 minutes from Glasgow Airport, with our services, you will find your journey to be quick and hassle-free, from start to finish.
Our Glasgow Airport Parking Services include:
Fully Insured Airport Parking
Leaving your vehicle behind can be worrisome. However, not at our park, as we are the only fully insured car park at Glasgow Airport. Park at Flying Scot Parking and fly worry-free!
Car Trouble Assistance
Car troubles do happen - but don't worry; if you find your vehicle with a flat battery, flat tyre, or another issue of the same nature, our friendly staff will be happy to help you get back on the road - at no extra cost!
Special Offers
We try to make sure our rates are extremely competitive and that we reward loyal customers. Our special offers and great deals include:
Valet Service
Return from your trip to a spotless vehicle. Choose between our full valet service, for those looking to return to an immaculately clean vehicle inside-out; our mini valet service, for those looking for a bit more than the classic wash and wax; or our wash and wax service, for a classic, no-frills car wash. Read more about our Valet Service here!
Express Personal Transfers
Guaranteed, fast and personal transfer service for you and your party only, going to and from Glasgow Airport. Our courtesy shuttles operate 24 hours a day, 365 days a year. Find out more about our Express Personal Transfer Service here!
Secure Airport Parking
With state of the art security, our park facility is secure with CCTV cameras, electric fencing, floodlights, and automated security barriers and gates. The facilities are also patrolled 24 hours a day by security professionals - we are serious about the safety and security of your vehicle! Read more about Secure Parking here!
Season Tickets
If you fly frequently from Glasgow Airport, Flying Scot has the perfect parking solution for you. With our season tickets, you can park at Glasgow Airport as often as you want across a 6-month period - including the possibility to park different vehicles at our facility across your 6-month window. Find out more about our season tickets here!
Long-Term Airport Parking
If you are searching for a long-term parking solution near Glasgow Airport, Flying Scot offer great value rates for long stay airport parking, fully insured and with no limit on your vehicle's parking duration. Read more about our long-term airport parking solution here!
Trust us with your vehicle and fly worry-free! Next time you need an airport parking solution near Glasgow Airport, book with Flying Scot. 
Book your parking
With flying scot glasgow